Seite 6 von 12
How to actually build your own watermaker?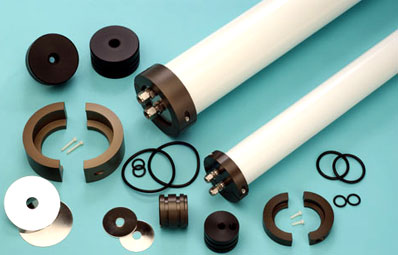 In the internet, you will find instructions that cover everything for about 10 USD. To my estimation, you can save this money. You easily will find several comprehensive instructions on the link list for download, and much other material, too. The biggest challenge will certainly be to get all the parts for reasonable prices. This will probably cost you hours of research in the internet. I only have European suppliers on my list apart from membrane and vessel, which I ordered in the US, as this was much cheaper although shipping and customs had to be added. But by this research you will save hundreds of USD.
What I did, particularily
I bought one pressure vessel and one SW30-2540 Filmtec membrane, both from AmericanRO.com. I bought the smallest Karcher Pressure Washer at the local Home Depot. I bought a 12V-Jabsco heavy duty feed pump. I bought a DC/AC-inverter to run the pressure washer, a small device from the local Radio Shack to control the RPM of the pressure washer, and a box full of fittings, pre-filter housings, filters, hoses as on the Excel-list that you may download. These things cost around 1,000 to 1,200 USD altogether. Additionally, I bought a stronger alternator (110 Amps) and a charge booster (Sterling A2B) to top up the batteries faster (these two items have only little to do with the watermaker. Depending on your boat you may not need them at all).
Links:
Here are the most interesting resources that I found when searching the net for our watermaker. (Should links be broken or sites be down, let me know. I have them all as PDFs also.)
www.sail-world.com/33568/ "The World Cheapest Watermaker"
https://sublimesustenance.files.wordpress.com/2012/03/how-to-build-your-own-watermaker.pdf A short but comprehensive DIY-guide
http://msdssearch.dow.com/PublishedLiteratureDOWCOM/dh_095b/0901b8038095b91d.pdf?filepath=/609-00071.pdf&fromPage=GetDoc or google for 609-00071-1009, which is the internal number of the DOW documentation covering everything about desalination, It is rather a book: 181 pages.
http://www.svsoggypaws.com/files/presentations/Making_Your_Own_Watermaker-Dave_McCampbell.pdf A very recommendable guide to a DIY-watermaker.
Those who are in Europe and want to buy in a "One-Stop-Shop" should visit Rainer, a friend who picked up the Karcher Water Maker idea and made a business out of it: https://watermaker.jimdo.com/ The prices are reasonable, Rainer is a reliable guy.
Below is a parts list of all the parts that I needed plus prices and where I bought them (this is a German list, as I bought everything in Germany - apart from membrane and vessel).
Some elbows, hose clamps and so on may be still necessary, according to the details of your actual installation.
The item numbers in the parts list refer to the parts on the WM Scheme.pdf.